Meena Bagh Homes are two award-winning newly opened (2017) eco- homes  in Himachal committed to green travel.
With  wood-panelled and mud-plastered walls, we  are also the closest you get to live in typical 'Himachali' homes in Himachal.
We harvest rainwater for practically all our needs and recycle water wherever possible. The furniture is designed in-house using waste and recycled wood. All  our homes are No Plastic zones. For our sustanibility measures,  Meena Bagh Shimla was awarded the Best Boutique Property Award  by the Outlook Responsible Tourism Awards 2018
Meena Bagh Shimla is situated in the capital Shimla and Meena Bagh Ratnari sits bang in the middle of an apple orchard 74kms beyond Shimla.
Meena Bagh Shimla has three separate units or suits, which can collectively accommodate over 20 people. While Meena Bagh Ratnari has one 4 bedroom  bungalow, which, with its sunroom and lounging areas can accommodation about 15 people. Doghri, a two-room luxury cottage is the latest addition to Meena Bagh Homes. Doghri was made almost entirely from wood sourced from an old British building which until recently was part of a girl's college in Shimla.
(At Meena Bagh Ratnari we are creating a unique  Forest Garden on the lines of Permaculture where we grow our own fruits and vegetables organically.   Guests can take a pick of their veggies for their lunch or dinner (Farm to Table)  or partake in sowing, harvest and farming if they so desire. Meena Bagh Ratnari , awarded India's Favourite Homestay in 2022, is pet-friendly and has a bustling population of Farm animals that has six species including sheep, ducks, rabbits, chicken, cats and the loveable dog Beswa)
Why Meena Bagh?
Meena Bagh gets its name from our ancestral  apple orchards in Ratnari. These are over 65 year old orchards planted by our grandparents in this now famous apple belt in Himachal.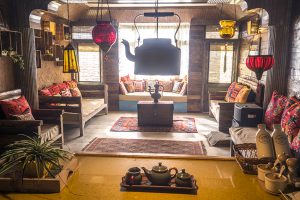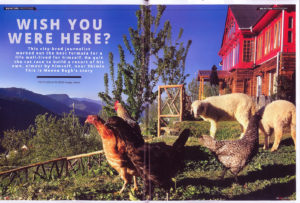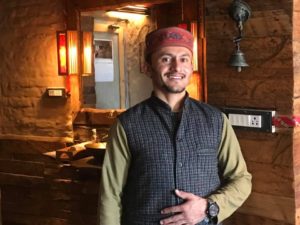 Ranjit: (Housekeeping MB Shimla)
Ranjit is blessed with a  typical Himachali face which is always smiling apropos nothing. He is an avid cricketer but it's his Pahari Nati which is the scene-stealer on the dance floor.He is also a fitness enthusiast, trying to spread the infection (unsuccessfully so far) among other staff members.
Dev: (Housekeeping MB Shimla)
From his elegantly trimmed beard, to his ( self-tailored) waistcoats and pleated trousers, it's hard to beat Dev in the grooming department. He is without question the most smartly turned out employee at Meena Bagh. However, beneath all the satorial flourish, he hides his deep love and talent for singing to which he can give vent without warning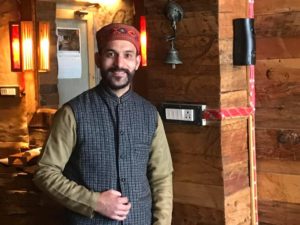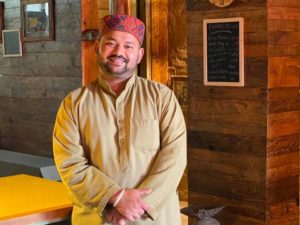 Vikram: (Cook/ Caretaker MB Ratnari)
 Vikram has a knack for comic timing that is at once funny and savage.
Even more vicious is his smash on the badminton court, where he currently reigns supreme.
He did not get much further in school but keeps himself abreast with current affairs, especially the dumbfuckery of world leaders from Trump to our own. He is affable and approachable and therefore is our HRD man at Meena Bagh.
Ratan: (Farmhand / Animal Caregiver)

Ratan tends to our fledging Permaculture project but is also the farm animal's caregiver.
For his efforts , the sheep, the dog, the flock of chicken (except the cats of course) follow him around like the latter-day Pied Piper.
He is also our go-to person for weather forecasts. So far his predictions have been almost as inaccurate as AccuWeather.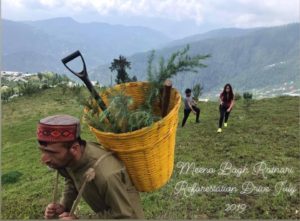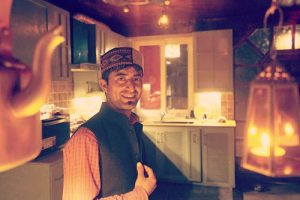 Satpal: ( Supervisor MB Homes )

Our first employee, Satpal is a jack of all trades and a master of some. He came to us as a mason, building walls and doing the mud-plaster but is now part-cook, part- driver, part-plumber, part-gardner, part service boy and part-sheep shearer.
He is the in-house fixer and flits easily and efficiently between jobs.
Deshraj: ( Caretaker/ Chef MB Shimla):

Soft-spoken and sedate, Deshraj comes to us riding on a lot of experience, including a two year stint in Iraq, where he rustled up meals for the, soon-to-experience-PTSD, American troops. He has typical quite, calm Himachali mannerisms that are both elegant and pleasing.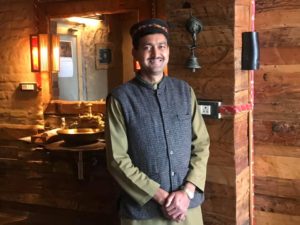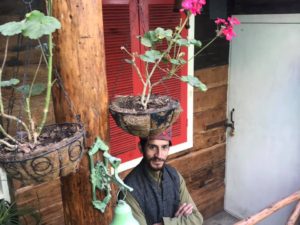 Mohan: (Utilities MB Shimla)

Smile is always on the verge of breaking on Mohan's lips. But the dark can quickly make it vanish as ghosts and hobgoblins are always on his mind. Send him anywhere and make him do anything but nothing can make him go into a dark room.
Sudesh: (Utilities MB Ratnari

He is our youngest and most docile member, always ready for any task thrown his way. He comes to us from the lower Himachal and is a calm efficient behind-the-scenes boy.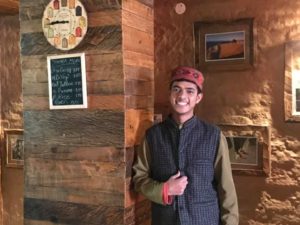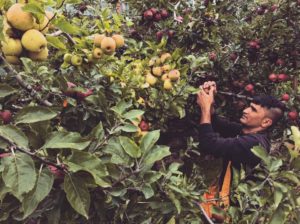 (Late)Mahavir: ( Housekeeping MB Ratnari)

Mahavir was the most hardworking member we have had at Meena Bagh. Honest, straightforward and guileless, he had a streak of adventure always lurking underneath.
One day (Jul 2019) he apparently jumped into the swollen river near his home in Sirmaur for a swim but was swept away by the strong current.
Sanjay Austa/ Owner :

 A journalist, a photographer, a hobby architect and a part-time orchardist, I am a proud jack of all trades and a master of none. Travelling accorded me the opportunity to explore and live in interesting properties  across the world. In fact, many of the design ideas have been generously stolen from wherever I have stayed.  Travelling also made me realise  the importance of sustainable living.  So when I opened Meena Bagh Homes in 2017, I decided, I  will try and make them as eco-friendly  as possible.
 I divide my time between Delhi and Himachal. In Delhi,  I pretend to be a journalist and write on culture, travel,  environment etc for the media. One can see my published articles and photos at www.sanjayausta.com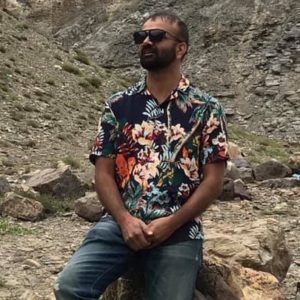 "Every aspect of it is informed by the owner Sanjay Austa, a photographer and writer …The overall impression is of a cosy yet elegant home with enough beauty within it, and around it, to make doing nothing a delicious prospect. "

"Its a rare to find an accommodation that distracts you from the spellbinding views. At Meena Bagh in Ratnari, it' difficult to decide what to focus on- the homestay, or the views."

" We found Meena Bagh a breathtaking property in Shimla, and we're in complete awe of its beauty. What we love the most about Meena Bagh is that they're super pet-friendly and encourage hosting guests who bring their furry friends along. And they're LGBT friendly too."

" Himachal's apple harvest season is in full swing by mid-August.There's no better time to book a room at the newly minted, eco-conscious resort, Meena Bagh in Ratnari, 85 kilometres from the hustle of Shimla."

"One of the friendliest airbnbs we've come across, they give preference to people with pets, are LGBTQ-friendly and 'also allow married couples."

" Meena Bagh sets a good example for hotels and resorts to take up sustainable practices. It has a water harvesting and recycling system in place. What's more, the home is gay-friendly, pet-friendly, and there is upto 50 per cent discount for writers, journalists and people involved with conservation activities."