Meena Bagh Ratnari is a 4 bedroom  bungalow which sits bang in the middle of an apple orchard. It is far from the madding crowd of Himachal's hill towns (85kms from Shimla ). It is suitable for those looking for seclusion, tranquility, nature and space (both indoors and outdoors) and the surreal experience of living in an Himachali home in the middle of an  apple orchard which has  5 different farm animals.  (cats, dogs, sheep, chicken and ducks).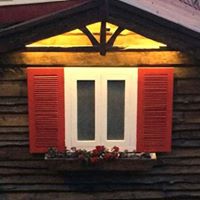 Meena Bagh Ratnari – An Apple Orchard Farmstay
Covid-19 Guidelines : (RT-PCR Covid test is  mandatory for Meena Bagh Ratnari)
1)You have full access to the Meena Bagh Orchard, the lawns and the farms , an area of over 14 bighas. However during the duration of your stay you would not be able to venture outside to the main road, or the forest where there is a risk of meeting locals. The caretaker will show you the Meena Bagh boundary on arrival.
2) There will be extra bed-linen,  towels etc kept in your room for the duration of your stay.  There will be no room-service (changing linin, food-beverage orders etc) or any other task by which physical distancing is compromised.
3) For mutual safety, we would not  expect you to  sit in the sunroom- wear masks in the  Sunroom/ kitchen while our staff is present there to prepare meals.
4)Kindly do not enter the kitchen area (open fridge/shelves/microwave etc)
5)Kindly ensure you have taken everything from your car as you wont be able to make trips to the car once parked on the main road.
6)Kindly ensure that everyone including kids is wearing masks on arrival and departure. Kindly do not linger on the main road (for photos etc) during departure or arrival.
7) Kindly sanitise your hands with the sanitiser at the entrance before entering the property.
(Please remember you are coming to a remote  area and a Green-zone. Hope you wil appreciate that for your safety and ours, we have to follow the Covid-19 guidelines strictly.
House Rules
Tariff
Rs 26900 per night for 8  people.
All meals can be ordered.
After 8 people it will be  Rs 2850 per person per day.
(Kindly Note: The Tariff quoted above is only an approximation. Tariff can go up or down depending on the season. Tariffs are generally lesser for weekdays.)
 Hangers
 Heating
 Washer
 Essentials
 Cable TV
 Iron
 Private Entence